NOTE: After careful consideration with the health and safety of attendees at the forefront, the ANNA Board of Directors decided to pivot this year's symposium to a fully virtual conference. If you registered for the symposium prior to May 21, 2020, please click here for additional information.
All event times are Eastern Time Zone.
---
Continuing Nursing Education
The program offers contact hours (CH) as follows:
Saturday – 5.25 CH
Sunday – 8.5 CH
Monday – 3.0 CH
Sessions on Demand (pre-recorded) – 13.25 CH
Sessions marked with Rx contain pharmacology content that can be applied toward pharmacology credit requirements. Pharmacology content credit is time-based on the objectives and content outline. Up to 8.0 hours of pharmacology credit can be accumulated.
If corporate-supported symposia are added to the program, additional contact hours may be available.
ANNA urges participants to be aware of the CNE requirements for relicensure in the states in which they hold a license.
American Nephrology Nurses Association is accredited with distinction as a provider of nursing continuing professional development by the American Nurses Credentialing Center's Commission on Accreditation.
ANNA is a provider approved by the California Board of Registered Nursing, provider number CEP 17499.
---
Evaluation Process and Contact Hour Certificates
You will be requested to evaluate the overall effectiveness of this conference. The evaluation will be available in the ANNA Online Library. In order to receive your contact hour credit, you must evaluate each session you attend. Once you complete your evaluation online, you will be able to access and print your contact hour certificate.
---
Payment Policy
No registration will be processed unless full payment is received with the registration form. If a check is returned by the bank for insufficient funds, full payment must be received by cashier's check or money order and must include an additional $25 for bank processing charges. If you do not receive an email confirmation regarding your registration, please contact the ANNA National Office (888-600-2662 or 856-256-2320) to confirm receipt of your registration. If you have requested payment through your facility/employer, check with the facility/employer to be sure they have processed the payment.Purchase orders (including government purchase orders) are not an acceptable form of payment.
---
Refund Policy
No telephone cancellations will be accepted. Written notice of cancellation must be sent to the ANNA National Office, East Holly Avenue Box 56, Pitman, NJ 08071-0056 (fax 856-218-0557 or 856-589-7463). A $50 administrative fee will be assessed on all cancellations received in writing and must reach the office no later than July 17, 2020. No refunds will be issued after this deadline. Membership fees are nonrefundable. All other monies will be returned to the party who originally issued the payment. If ANNA finds it necessary to cancel or postpone this educational offering for any reason, including, but not limited to low registration response, strikes, or acts of God, ANNA shall not be liable for registrant(s)' expenses.
---
Exhibits
ANNA does not endorse any product or service exhibited, nor does it necessarily support the content of any educational session provided by exhibitors. Acceptance of advertising does not indicate or imply endorsement by ANNA.
---
Questions?
View answers to frequently asked questions
Contact the ANNA National Office: 888-600-2662 or 856-256-2320; fax 856-589-7463; anna@annanurse.org
---
Conferences Committee
Chairperson
Mary Schira, PhD, RN, ACNP-BC
Chairperson Designate
Judy Kauffman, DNP, MSN, RN, CNN
Director of Education Services
Sally Russell, MN, CMSRN, CNE
Committee Members
Marijo Johnson, BSN, RN, CNN
Sharon Longton, BSN, RN, CNN, CCTC
Anna Rogers, MBA, BSN, RN, CNN
Mary Schopbach, BSN, RN, CNN
Leah Foster Smith, MSN, APRN, FNP-BC, CNN-NP, FNKF
---
Official Media Partner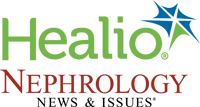 Healio.com is the official media partner of the 2020 ANNA National Symposium.
---